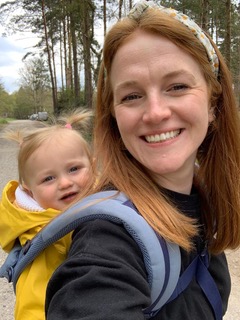 Louise
My main form of exercise used to be gym classes and spinning. Now having small children, nipping to the gym is no longer an option. Over the years I've tried a few different YouTube workouts but never stuck at any of them for long.
Then I found Pilates by Georgia, recommended to me by my very good friend Katy I signed up for the free trial and haven't looked back! I have loved every class I've done and managed to fit them into my very busy days! I've done the last two sweat slams on catch up and really enjoyed them and the excellent music choices too!
I really look forward to my workouts, Georgia's energy is contagious and the massive improvement in my physical and mental health from doing them regularly is amazing- I can now touch my toes for the first time in my adult life!! I look forward to continuing my PBG and showing my girls how important, fun and valuable exercise is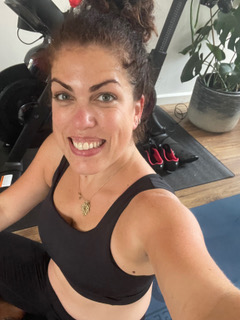 Lindsay
I have dabbled in Pilates a few times over the years, but never fully committed to the practice.I'm a runner and spin cyclist and a year ago I decided I needed something to compliment what I was doing already, build strength and incorporate stretching. I found PBG and have not looked back.
I had a tummy muscle separation after my second baby and totally neglected the recovery of this, and almost began to accept I had a weak core and that was that.
I am a year into my PBG journey, the personal plans have been incredible and tailored to my needs, I have completed nearly every sweat slam since I joined and most importantly I've seen a huge change in my body and how I feel. I am able to do exercises now that I never would have attempted before, my core strength has increased ten fold.
The motivation and energy Georgia brings to the workouts is infectious! The workouts are always fresh and exciting and Georgia's playlists are always on point!
I've been dealing with injury recently and Georgia did me a personal plan to support my recovery. Even when I'm not fully fit I can still get my PBG fix safety and know that I'm looking after my body in a way I never used to.
I'm a proud PBG super fan. It's an incredible community to be a part of!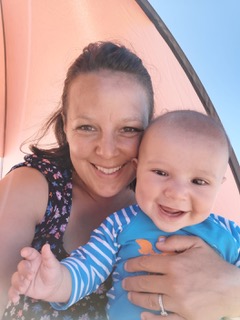 Jenny
I have been using PBG since 2018, after my eldest was born. Prior to my babies I had been a keen runner, starting with 10k's and gradually building up to marathons and an ultra.
I have since had baby number 2 and I have continued to use PBG. I have now returned to running again and I'm currently training for a trail marathon. I would not have recovered from both my c-sections so well without the tailored programmes Georgia and Katy have provided. I love completing my pilates and really look forward to it, my me time, building a stronger body.
Thank you so much PBG, a great community to be a part of!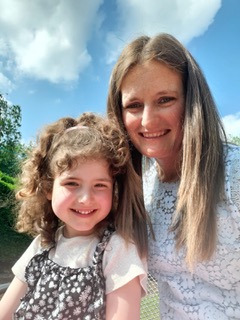 Lucy
I first started pilates in 2015 when I was advised it would help with my arched back when horse riding. I started at a local class once a week. I continued this through my first pregnancy till about 32 weeks pregnant.
Once I had my first child I struggled to find the time. Scroll on a couple of years and in 2019 I found another class for equine pilates but then fell pregnant with my second. This is where I then found PBG.
Having 2 children and finding the time to get to an in person class felt like an impossible mission. Also by being in lockdown this wasn't an option. The live schedule was also a good aim to plan some structured time. Having the structure of a PBG plan made it feel much more achievable to fit pilates back into my life. I have had plans for shoulder mobility, upper body, all body, cardio.
A couple of months ago I decided to challenge myself to a couch 2 5k as my heart has suffered through pregnancy. I have only managed this with no aches and pains by using the PBG fit2run sessions and the post run cool down stretches. There really are classes for everything. Without PBG I'm not sure if I would have ever got myself back to a pilates class.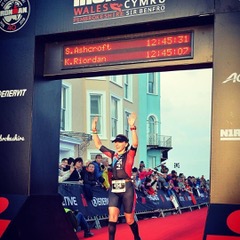 Sarah
I started PBG a few days after giving birth to my daughter Molly in 2020. Georgia put together a personal plan designed to help me gently recover from a difficult assisted birth, and which only took up a few minutes every other day (and were usually completed with a tiny baby cuddled up on me!). Very quickly I started to feel stronger and more in control of my body again. Fast forward 16 months and I actually feel stronger than I was pre-baby, which I certainly wasn't expecting!
As a long distance triathlete, I was very used to putting in long training hours and pushing myself hard. However, since becoming a PBG member, I've realised that I probably wasn't "functionally" fit or using my body properly. I've now learned how to engage my core and strengthen key muscles, which has helped me no end with my return to triathlon. I've managed to avoid injury niggles (which is unheard of for me!) and even found a bit more speed, beating some of my pre-baby PBs!
I've always tried to do strength work alongside my training, and have dabbled in various HIIT classes, circuits, CrossFit, etc. But PBG has made me realise you don't need to lift big weights or spend hours in the gym - a few sessions a week at home can be just as effective, and much easier to fit in around a busy life.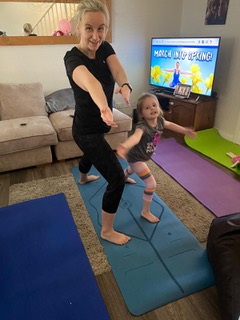 Ula
I'm a mum of one with a very busy full-time job in software consultancy. I met Georgia just over 6 years ago when I was 3 months pregnant with my daughter. It was my first introduction to Pilates and I was hooked immediately. Sadly, during my labour, I got badly damaged and ended up with stage 3 prolapsed bladder and lots of damaged nerves.
I had always been a very active person and loved running, so when the consultants told me that I would never be able to do any high intensity exercises and I could pretty much forget about lunges, squats or sit-ups, I ended up with severe postnatal depression.
Thankfully Georgia appeared in my life again and told me to give her a year to "fix" me. 5 years on and I'm addicted to Pilates, walking ultra-challenges and loving the exercise more than ever. I will never be able to do any high intensity exercise again but Georgia showed me the light at the end of the tunnel and that anything is possible if you put your mind to it.
Pilates for me is not just an exercise, it's a life style.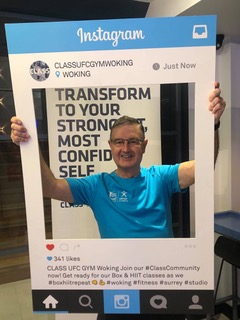 Bill
Yesterday I did the Runstrong Core session as part of my Personal Training Plan scheduled by Georgia. This morning I completed a 25k trail run taking in Chinthurst Hill and the North Downs Way... my longest run in over 25 years!
The training has definitely helped improved my running. Thank you Georgia!!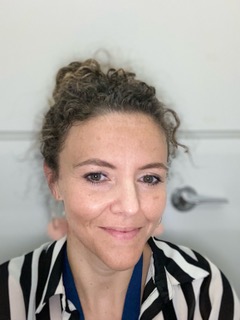 Patricia
Your plans and live classes have totally changed my outlook and attitude towards exercise and fitness and have kept me same in lockdown! Thank you so much!

Emma
I really struggled becoming a Mum. Sport had always been a huge part of my life. Not feeling strong mentally or physically was really hard to deal with, along with every other thing you're learning as a new parent. Without being too dramatic, the PBG post natal Pilates class once a week, progressing to the online studio, was a big part of maintaining my sanity and feeling that I was moving back towards being someone I recognised as myself. I'm pregnant now with my second and I'm thankful that I know this support will be in my arsenal second time round. Fallen back in love with pilates!

Clare Huppler
I just want to say a massive thank you for helping me feel strong post-natal. I feel even stronger than before I was pregnant.
Your classes have really helped me with my recovery. Before having a baby, I'd resigned myself to assuming that I would never feel good about my body post baby. Your classes have very much proved me wrong and I'll be forever grateful.
The shorter videos made it really easy to squeeze in workouts and the fact I was able to do them from home made it very do-able. Next time I'll need to do your antenatal classes too!

Suzy Morton
I just wanted to say how much I'm loving the Zoom classes. I know I've not done many (yet!) but it is genius to be able to do them this way - means I can do them while my toddler is in bed without having to leave the house, no driving time and no caring whether I'm fit to be seen "in public"! As you know I love your online studio but having a fixed time and seeing everyone else turning up is a great motivator. Plus I love your taste in music and the "chat" of doing it live.

Karolina
Best combined cardio and strength class I have ever tried.